'The Secret Money System' is CLOSED 
"Why THIS is your next BIG CASH  Win-fall"
100% Commissions On The ENTIRE Funnel, FE, Bump & All The OTO's
Upto $307.90 Commission Per Customer
Irresistible Front-End Offer $9.95
$6675 in Cash Prizes Up for Grabs + Guaranteed Recips for The Top 10!
Welcome, Begin by Following The STEPS Below
Ping Our Magnificent In-House JV Manager, Paula-Maree, If You Need Anything
"Sold On Warrior Plus so You Keep 100% Commissions on The ENTIRE Funnel"
Internet multi-millionaire Michael Cheney who's appeared on TV teaches you in JUST 3 highly effective sessions inside his Secret Money System and how you can use the same free method that's made him millions online!
I'll Cut To The Chase - Here's How This Works... The Secret Money System is all about how to generate sales online, from scratch, using the same free method that helped me make multiple millions of dollars..II share this in 3 simple yet highly effective steps....NO-ONE else will spell this out for you ...BUT ME!.....
WATCH THIS PRODUCT WALKTHRU:
3 Highly Effective SECRET MONEY SYSTEM SESSIONS
SESSION #1. BIG MONEY BASICS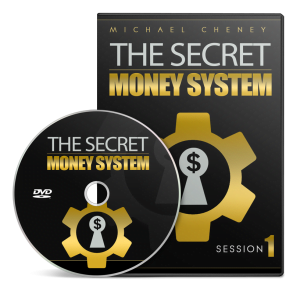 * The 7 Success Secrets to Make Money Online
* REVEALED: The Ultimate Online Success Formula
* Secrets of Making Big Money Online Finally Laid Bare
SESSION #2. WHERE THE MONEY IS ONLINE AND HOW TO GET IT
* Why Most People are Failing Online and The Quick Fix
* The Biggest Mistake Online Entrepreneurs Make and the 11 Minute Solution
* The 8 Hottest Niches and How to Mine them for Cash Quickly
SESSION #3. HOW TO ATTRACT RED-HOT BUYERS THAT GIVE YOU MONEY
* Millionaire Software You Must Own (And How to Get it Free)
* The Biggest Mistake Which Can Cost you Thousands (And The 2-Minute Fix)
* The Zero Money Down Method to Collect Lucrative Leads
Includes downloadable video, audio and transcripts for each session
FE BUMP. Fast Cash Blueprint, 100% COMMISSIONS ON $6.95
Your Ultimate checklist guide now you will be fully equipped to Grow your Secret Money System Faster and Stronger Than Ever imagined.
OTO #1. THE BIG MONEY ACCELERATOR, 100% COMMISSIONS ON $97
This is a breakthrough video training session where they get all the biggest insights from my 20 years of doing internet marketing.
I share the biggest secrets that will accelerate you to the BIG MONEY Quickly
I've offered this as a Bump before on a previous offer and it got a staggering 41% conversion rate!
OTO #2. COLOSSAL COMMISSIONS, 100% COMMISSIONS ON $97
You are going to LEARN the same commission secrets which made me a millionaire affiliate;
The one kind of affiliate marketing tactic to use if you absolutely MUST make $1000 commissions this month
(HINT: It's fast, free and fun to do)
The #1 WORST affiliate marketing mistake you can make.
(Even if you knock everything else out of the park you won't make jack if you make this blooper)
The shocking truth about why people choose to buy from one affiliate and not another
(Learn this secret and you can double your sales overnight - many have)
The #1 EASIEST way to make hands-free commissions ever invented
(This is worth ten times the "entry fee" on its own)
And many, many more commission-creating secrets...
OTO #3. RESELLER RIGHTS, 100% COMMISSIONS ON $97
The ultimate shortcut direct to the money because everyone who grabs this upsell unlocks the licence to resell The Secret Money Systems entire funnel and keep 100% of all the money.
Strategically positioned as the last item in the funnel, this is going to EXPLODE your EPCs!
"We Reciprocate With FULL FIREPOWER For you!"
John Thornhill - Digital Entrepreneur
Dan Khan - Affiliate Marketing Hero
Ping Our Magnificent In-House JV Manager, Paula-Maree, If You Need Anything
(c) Copyright 2022. Your Millionaire Maestro - Michael Cheney. All rights reserved.